Our core team has extensive global experience gained from the largest oil and gas operators in the world. Our experience and lessons learnt at all asset life cycle stages will assist in optimising your asset integrity management (AIM) system and supporting activities.
Next Advanced Solutions (NAS) is structured on 7 integrated departments: integrity, corrosion, inspection, access, maintenance, construction and quality. These same departments provide the foundation for our AIM system.
We have more than 30 years of global experience in each department.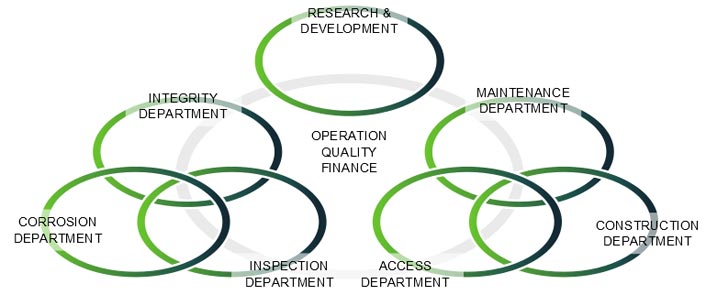 Asset integrity management is a complex process that requires multidisciplinary collaboration and communication. At Next Advanced Solutions, we appreciate this complexity. We have systematically identified the shortcomings in current practice and developed practical and cost-effective solutions that optimise the entire AIM package.
Obtaining the correct information to make an informed AIM decision is a balancing act with regards to optimal resource allocation. Our advanced AIM system (COMPASS), together with our professional team, simplifies this balancing act. We can accurately identify and manage resources needed for effective AIM throughout the asset life cycle.
We are committed to being leaders in asset integrity management.
To remain at the forefront of asset integrity management, Next Advanced Solutions collaborates with elite universities and other key companies.